Learn about the materials we use and how to care for them
Precious metals
We use Fairtrade gold and silver wherever possible, and are registered under Fairtrade's Small Jeweller's Scheme.
Silver
We use 925 sterling silver, which is 92.5% fine silver and 7.5% copper.
Oxidised silver
To oxidise silver, we apply a chemical solution to 925 sterling silver. This turns the silver surface a dark grey. This finish will gradually disappear over time, particularly in exposed areas. Most people find this 'patina' effect adds character. If you prefer a longer-lasting finish, we can rhodium-plate your piece instead. If you'd like your piece re-oxidised, please get in touch.
Gold-plated silver or 'vermeil'
We do not gold plate silver. We believe in authentic materials and 'what you see is what you get', so only solid gold is used for Jeanne Marell jewellery.

Gold
We use 9ct and 18ct rose, white and yellow gold. When you get a piece made to order, you can specify which colour and carat weight you prefer.
Hallmarks
You can be confident our jewellery is made from the precious metal we say it is: we hallmark all gold items and silver items.

A hallmark is a series of marks struck on precious metal items to guarantee a certain fineness of the metal.
Our hallmark is made up of four components:
– our sponsor mark, unique to our jewellery
– the standard mark denoting the precious metal content
– the London Assay Office mark, indicating where the piece was hallmarked
– the date letter, showing in which year an item was hallmarked
This hallmark notice shows you the different hallmark components.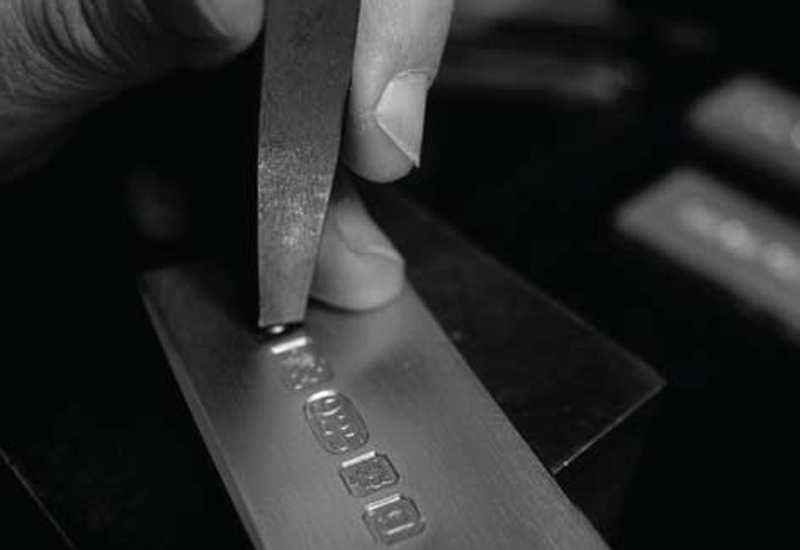 Non-precious materials

Wood
We select wood based on its appearance and durability. Ebony, teak and other hardwoods are our favourites as they do not damage easily and are beautiful. We wax the wood when finishing the piece of jewellery. We recommend you remove rings with wood before washing your hands.
Nylon
Nylon is a kind of plastic wire (a polymer to be exact), which is incredibly strong. In fact it is so strong, it can withstand a few kilograms of pull on a wire only 0.2 mm thick (the one we use). It is more likely you misshape the metal than that you break the wire! You might know nylon from its use for fishing rods. We use the colourless, transparent version for our jewellery, but experiments with coloured wire are in the pipeline...
Perspex/plexiglass
Perspex is a plastic, technically speaking a polycarbonate. It exists in many versions. We use completely clear and transparent (like glass), in translucent colours so you can see through, and in a frosted, milky version. If you would like your piece in a specific colour, please get in touch with your wishes and we will let you know what we can do.

Finishes
Polished
This is a shiny finish, kind of like a mirror. Designers call it 'high gloss'.
Matte
This is a satin finish that doesn't reflect as much light. It is not shiny, though it has some lustre.