Minimalist jewellery with a twist, meticulously designed and crafted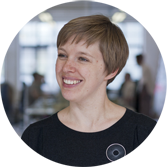 Jeanne Marell designs and makes minimalist jewellery with a twist from her studio in the Netherlands, alongside a successful career in product and service design. Apart from jewellery, Jeanne's portfolio includes Cadillac and Hyundai interiors, Hewlett Packard laptops, Nokia phones and Samsung products, amongst others.
Jeanne Marell believes in creating unique, enduring designs. Her pieces are precious objects with a style that lasts beyond the next fashion trend. They often speak to people as they recognise the concept behind the design, but are surprised to see its unique interpretation into jewellery. Forms are often combinations of simple geometries, and each design combines two materials or finishes in an unexpected way. They reveal their intricate detailing to those who take a closer look.
Jeanne Marell produces work in gold and silver, and often combines these with non-precious materials such as wood, perspex and nylon. Jeanne is committed to ethical studio practices and uses Fairtrade gold and silver wherever possible. All pieces containing precious metal are hallmarked at the London or Birmingham Assay Office.
The following characteristics make Jeanne Marell's jewellery unique:
– Minimalist design aesthetic, emphasising materiality in new, playful ways
– Timeless design – enduring styles that last beyond fashion trends
– Meticulously designed pieces, executed with high attention to detail and craftsmanship
– Ethical approach to sourcing precious metals and a sustainable approach to studio practices
Jeanne set up her business in 2014 and was immediately selected as a Kickstarter to exhibit at IJL in the same year. In 2015, Jeanne exhibited for the first time at the prestigious Goldsmiths' Fair. Both in 2013 and 2014, Jeanne was nominated for the Benchpeg award. In 2016 she was nominated 'New Designer of the Year' in the UK Jewellery Awards.

Starting her business in London, then moving it to Copenhagen and now again to the Netherlands, it's less active than it once was, but not less loved!
Jeanne would love to tell you more about her jewellery and herself in person, please email her at info[at]jeannemarell[dot]com.